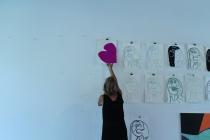 Marina Adams has developed a dynamic and abstract painterly practice of clear and powerful formal language that centers around exploring the possibilities of form and movement while displaying the structural power of color. Her vibrant works create space and motion by assembling organic, asymmetrical shapes into free-flowing, rhythmic patterns. As the curator Helga Christoffersen put it, Adams' "work demands silence, enabling us to think and dream and create space", while embracing gesturalism and improvisation. She reduces the work down to its essentials, allowing space for all the senses. Rather than a purely optical matter, the artist understands painting as the manifestation of intangibles such as temperament, sensibility, intellect, and research. Her work draws inspiration from the natural world, music, textiles, architecture, and literature–Thelonious Monk, Moroccan rugs, Moorish mosaics, and the poet Joanne Kyger–while also engaging in a persistent dialogue with art historical predecessors, such as Henri Matisse, Joan Mitchell, Alma Thomas, Willem de Kooning, and Hilma af Klint.

Marina Adams earned degrees from Tyler School of Art, Temple University, Philadelphia, PA and Columbia University, New York, NY. She is the recipient of the John Simon Guggenheim Memorial Fellowship (2016) and the Award of Merit Medal for Painting from the American Academy of Arts and Letters (2018). Adams has participated in various solo and group exhibitions, including the Modern Art Museum, Fort Worth, Texas (2020), the Parrish Art Museum, Water Mill, NY (2023; 2021), Milwaukee Art Museum (
2023)
Camden Arts Centre, London, UK (2016), and CUE Art Foundation (2008). Marina Adams' work is in the collections of the MoMA, New York, the Modern Art Museum of Fort Worth, Texas, the Metropolitan Museum of Art, New York, and the Longlati Foundation, Shanghai, where Adams will have a solo exhibition opening in September 2023. She
is a New York painter based in Bridgehampton, Long Island and the hills outside of Parma, Italy.
A current solo exhibition titled, In the Garden of My Memory is open at the Longlati Foundation in Shanghai, China (closes October 25, 2023). Past solo exhibitions include
Mother Tongue
at Galerie Thomas Schulte, Berlin Germany, (2023);
Flower Power
at Von Bartha Copenhagen, Denmark (2022);
What
Are
You
Listening
To?
, LGDR, New York, NY (2022);
Wild Is Its Own Way
, Stephen Friedman Gallery, London (2021);
Anemones (2019),

Soft Power (2017)
Salon 94 Bowery, NYC. In 2016, Adams presented a solo booth with Karma Gallery and Books at the Independent Art Fair, NYC, concurrent with their publication of her book,
Portrait and a Dream
.
Adams has collaborated with poets Norma Cole, Charles Bernstein, Vincent Katz, Leslie Scalapino and Christian Prigent and has published prints with TwoPalms NY, ULAE, Niels Borch Jensen Copenhagen and VanDeb Editions.
For Adams' full CV, see pdf attachment in top right corner.